The Bald Carabiner is a delicious Tiki Style drink, preferably prepared by a bald man in the Dry Tortugas, about 67 miles west of Key West.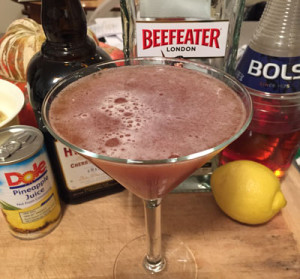 Tiki is an entirely American "Art Form" essentially created by Don The Beachcomber and Trader Vic in the 1930s, claiming to have Polynesian roots although the connection is very tenuous. Tiki is American.
Popular historic Tiki Drinks are The Mai Tai (much more than more fruit juices and rum!), The Scorpion Bowl, The Zombie and many others. Tiki drinks, when done right, feature fresh fruit juices, often flavored syrups, and ornate garnishes such as umbrellas, orchids, & chunks of pineapple and cherries.
The Bald Caribiner is a more modern Tiki Drink first served to me in the presence of an albatross by a bald bartender in the Dry Tortugas (I'm lying, but doing so quite colorfully).
Mix the following in a shaker with ice:
1 1/2 part pineapple juice
1/2 part lemon juice
1 part gin
1/2 part Cherry Herring (*)
1/2 part Orange Curacao (*)
Shaken and then served up in a cocktail glass
Served up with garnish of your choice' I like a cherry. Ideally enjoy in the presence of an albatross. A pelican will do in a pinch. A pigeon is OK too. Just ideally do not drink alone.

(*) Cherry Herring is a wonderful cherry brandy. You could substitute a different cherry brandy if necessary.
(*) Orange Curacao, widely available, is ideal, but you could substitute a different orange liqueur such as Cointreau or Grand Marnier. After extensive experimentation, I clearly prefer and suggest Orange Curacao!