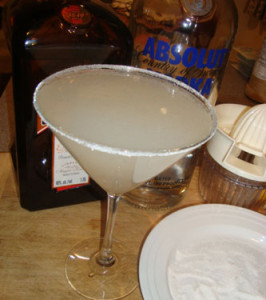 A Lemon Drop (sometimes erroneously called a "Lemon Drop Martini") can be a splendid cocktail, or it can be an absolutely putrid sickly sweet concoction.
Bad versions contain cheap triple sec and sour mix – a great one instead has quality ingredients such as Cointreau and freshly squeezed lemon juice instead.
This is one of the most commonly made, and commonly requested, cocktails at Chez Ted.
I first encountered The Lemon Drop with a babysitter when I mistakenly thought I had recovered from pneumonia after somewhat foolishly teaching a SEC401 Security Essentials Bootcamp with said pneumonia. The doctor said, "Don't do anything for 2 weeks." I didn't.
Fast forward exactly two weeks later:
Somehow, through no fault of my own, I found myself going out for drinks with a friend's kid's babysitter, still with quite significant, and more than residual, pneumonia.
We found ourselves at DiMillos, a restaurant literally on the water in Portland Maine, favored by old people and tourists. Although my foodie friends would never be seen there, the food and drink are very solid although certainly not cutting edge nor creative. People like it because it is situated on a boat which is pretty cool. I recommend it heartily based both on food quality and festiveness!
Since I was sick, I ordered a restorative Bombay Sapphire Martini, scorching dry, straight up, with extra olives. She loved gin, but Martinis were not her style, so after some deliberation with the waitress and an assurance that it wasn't a sickly sweet "girly drink," she ordered the first of several Lemon Drops.
Both drinks went well with the steamers (steamed soft shell clams), and although the silly girl thought I was eating them simply to be "nice," despite my stomach doing occasional calnesthetics and trying to revolt, I was showing it who was in charge and feeding my body restorative food and drink. And the steamers rocked!
A few days later guess who was googling "Lemon Drop" and trying to make the ultimate?
Use a decent vodka. I often use Grey Goose, but Absolut or similar is fine. Do not use the cheapest and nastiest!
The fresh lemon juice is not negotiable. This drinks rides on its fresh lemon flavor.
Cheap triple sec doesn't cut it either in my opinion. I use Cointreau, although I hear that Grand Marnier is wonderful as well and must try that sometime.
The "Classic" Lemon Drop
Ingredients:
2 shots decent vodka
1/2 shot freshly squeezed lemon juice
2/3 shot Cointreau
Add to a shaker with ice, and shake.
Use the lemon rind to moisten the rim of a cocktail glass, and roll the edge in a small amount of sugar to coat the rim.
Surprisingly suitable for cocktail connoisseurs. Be careful as they ARE strong, and little kids like them too (like my 21 year old niece).
This is certainly not the only way to make a decent Lemon Drop!
Last 4th of July, I made Ginger Lemon Drops for approximately 2000 of my best friends (I perhaps exaggerate just wee bit here).
I am however not exaggerating when I say I'm having one as I speak (err, type).
The Ginger Lemon Drop:
2 parts vodka
1/2 part Domain de Canton Ginger Liqueur
1 part lemon juice
1/2 part agave nectar or simple syrup (water supersaturated with sugar – that means mixed with a "shitload" in the vernacular")
First encountered this wonderful variation in John Bunzli's video below. He also does a pretty killer looking salmon I must try soon!