Infosec Rock Star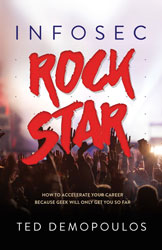 "Ted, to those about to rock, I salute you … and always enjoy listening and learning from you. I always pickup new tips and tricks."
– Dr. Eric Cole, SANS Fellow, inventor of over 20 patents, author of numerous books, etc.
Why are some people so much more effective than others?
Why do some super smart people have almost no impact, but some seemly less smart ones have a major impact?
Geek will only get you so far
-Joe Eckhout
I'm Ted Demopoulos, and I do not claim to be a Rock Star. But many of my friends and colleagues are, and I've been talking to them, trying to figure out what makes them so great, what makes them rock!
I want your input too!
You do not need to consider yourself a Rock Star. We all have knowledge we can share, and I consider this a community project. These are not just my ideas. Not remotely!
Geek, or "Core Competency" is obviously important, whether it's having the knowledge to be a kickass IDS analyst, or knowing how to manage, inspire, and lead a team.
Here are some of the key areas we'll be exploring which affect how effective, or ineffective, you are.
Positioning – why they don't like us or security and what we can do about it.
How to be a professional
How to let people know you rock.
And because so many people ask, we'll also cover
Sex and drugs and rock and roll. Are very good indeed.
-Ian Dury and the Blockheads
and so is controversy, especially if you want ideas to spread!
This all began when I was asked to give a SANS at Night talk. I looked at the list of other speakers and topics, and not only was I in awe of them but also of their technical depth. Now I'm a fairly technical geek. I even love cryptography, even the math involved (really!), but . . .
I decided to give a non technical talk, on what it takes to be effective, to get things done, to have a (hopefully positive) major impact.
What, was I insane? A nontechnical talk at SANS? Well, I once spoke about Windows NT3.1 at USENIX – this couldn't be any worse, and it was bound to be amusing at least!
The talk was an amazing success. I've given it many times since, gotten both great and positive (and some useful negative) feedback every time, and my talk and viewpoint has grown significantly over time "with a little help from my friends."
One last thought, from a multi talented and Emmy, Grammy, American Comedy, Oscar award winning and kickass banjo player: